Posts Tagged 'absenteeism'
Do you see teens who appear to be sleepwalking to their first-hour classes? Are students sprawling across their desks in your classes, struggling to keep their eyes open? It's easy to blame these symptoms of sleep deprivation on staying up too late or too much screen time, but public health officials instead say the cause is early school start times.
The issue of school start times is being debated around the country. In California, the State Assembly is nearing a vote on a bill that would require middle and high schools to start no earlier than 8:30 a.m.
Studies by the American Academy of Pediatrics show that sleep-deprived teens have a greater risk of being overweight, suffering depression, and being involved in automobile accidents, and those that get enough sleep have better grades, higher standardized test scores and a better quality of life.
Certainly, switching to a later school start time will create problems in scheduling school buses, after-school activities, and sporting events. But it could also reduce tardiness and absenteeism.
So do the benefits of a later school start time outweigh the inconvenience it may cause for administrators and parents? The debate is sure to continue. You and your students can follow the debate with the latest articles in ProQuest SIRS Issues Researcher:
The Economic Case for Letting Teenagers Sleep a Little Later
New Instructions at High Schools: Take a Nap
Why Letting Teens Sleep in Could Save Lives
SIRS Issues Researcher is a pro/con database that helps students understand today's controversial political issues with editorially selected analysis and opinions that cover the entire spectrum of viewpoints.
Don't have SIRS Issues Researcher? Free trials are available.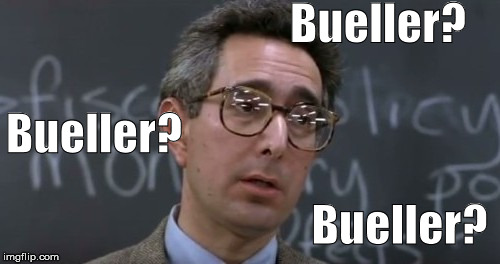 My no-nonsense parents had no patience for illness let alone truancy. School attendance was required; sickness was just another brick-heavy textbook in my backpack. But in the fifth grade, savage bacteria fought for my liberty. I thought I caught the bubonic plague, so I went to the school nurse. Diagnosis: fever, no plague. My mother had to pick me up—nurse's orders. I was free, even though it only led to soup and sleep.
Bueller?… Bueller?… Bueller?…
My early dismissal wasn't exactly Ferris Bueller's Day Off, which celebrates its thirtieth anniversary this month. In that film, Bueller skips school, "borrows" a Ferrari, tours Chicago, and outwits every adult. Even adults can recognize the appeal in that scenario. Being absent once in a while is liberating. No big deal, right?
Adding It All Up
As it turns out, absences add up fast. According to a recent U.S. Department of Education (DOE) report, truancy is endemic. Thirteen percent of U.S. students, 1 in 8, are chronically absent, which is defined as missing at least 15 days of school a year. High school students are the worst offenders: nearly 1 in 5 is chronically absent. Minority students also have higher rates of chronic absenteeism.
Why It Matters
Ferris Bueller is a career truant. Does it matter, really? It does, actually. The same DOE report cites studies finding that truancy causes students to fall behind in important areas like reading. Chronic absenteeism also indicates a greater likelihood of dropping out. And consequences may extend into adulthood: truancy and dropping out lead to poorer health outcomes and increased chances of going through the criminal justice system.
What We Can Do
If Ferris Bueller proves anything, it's that truancy beats economics class. But—other than not sounding like Ben Stein—there are some things educators can do to curb chronic absenteeism.
Collect individualized data. Use data to identify which students are chronically absent.
Engage students and parents. Awareness matters. Sometimes students and parents simply don't realize how quickly absences have added up.
Dig deeper. Ask a student or parent what's going on. Some reasons are more serious: illness, family responsibilities, housing troubles, unstable home environments, insufficient transportation, bullying, personal safety concerns, and culture are just a few reasons that lead to absences.
Find solutions. More serious problems aren't easily fixable, but identifying them is the first step toward finding solutions.
Avoiding absences altogether is impossible. Sometimes fifth graders spike fevers. And sometimes the Ferris Bueller's of the world declare, "How could I possibly be expected to handle school on a day like this?" Too often, though, we dismiss the adverse consequences of truancy, but it's no joke. Curbing chronic absenteeism now will help students become successful adults. It's within our power to at least try.
How does your school fight chronic absenteeism?
Share your thoughts with us on Twitter #ProQuest or in the comments below.